"My life with him was a nightmare. He used to take me for walks in the woods with the children and blow up small trees with a shotgun. He would then turn the gun on us and threaten to blow our heads off if I reported him. I am not running anymore. I am tired of living this way."
Domestic violence victim
"All too often, women purchase handguns in a misguided effort to protect themselves. Medical studies and government data consistently show that when a firearm is brought into the home, it is far more likely to result in a homicide, suicide, or unintentional death than to be used for self-defense."
Karen Brock, MPH from When Men Murder Women: Analysis of 1999 Homicide Data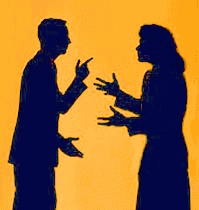 The presence of a gun in the home greatly increases the chance that domestic violence will end in murder.
In 1998, two-thirds of homicides against women by their current or former husbands or boyfriends were committed with guns. That's more than two women shot to death every day. On top of that, the presence of a gun makes a domestic violence incident 12 times more likely to end in death.
Domestic violence homicides are largely ignored by the national media, even though they are a common occurence. The gun industry markets guns to women, claiming that owning a gun is a feminist act and a means of self-defense. The fact is that keeping a gun in the home does not increase the chance that any woman can defend herself, or ensure that an abused woman can protect herself from her batterer. Instead, it increases the chance that she will be injured or killed. Guns in the home are unsafe for children, too.
Recently, the U.S. Court of Appeals for the Fifth Circuit in United States v. Emerson, reversed a lower district court ruling, determining that domestic abusers do not have the individual right to own a firearm. This is an important decision in support of domestic violence victims. This decision upholds a domestic violence protective order gun ban, a federal statute which states that firearms cannot be kept by those who are under a court issued restraining order.
In California, Governor Davis earlier this month signed into law AB 469 which mandates that law enforcement responding to a domestic violence-related incident prepare a domestic violence incident report, noting whether or not law enforcement inquired about the presence of a firearm in the home. This law requires that law enforcement confiscate any firearm or other deadly weapon discovered at the site of a domestic violence-related incident.
October is Domestic Violence Awareness Month, an important time for all of us to learn more about the dangers of guns in the home and to get involved in the prevention of domestic violence.
For more information about domestic violence, see these resources: