---

Disarmament alone cannot ensure a sustainable peace. Putting curbs on gunrunning is a fundamental part of building a peaceful future.

A strong focus on the role of women's organizations in promoting an end to gun violence has already emerged as a key priority

October

25, 2002






.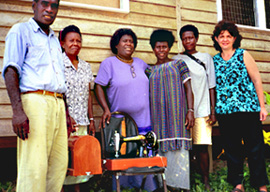 Putting the Brakes on Pacific Gunrunning
In the last few years, violent armed conflicts in Fiji and the Solomon Islands and a devastating civil war in Bougainville have killed and injured thousands of Pacific Island people, setting back the development process by years, even decades. In Papua New Guinea, the proliferation of guns has had terrible consequences, with firearm-related violence rife in the highlands, and as many as 16 people reported killed during the recent elections.
While disarmament alone cannot ensure a sustainable peace, putting curbs on gunrunning is a fundamental part of building a peaceful future. Many organizations have devoted years to building a peaceful, independent and nuclear-free Pacific, but the problems posed by these smaller, much more common lethal weapons is relatively new, and networks are still taking shape around this important issue.
At the global level, the International Action Network on Small Arms (www.IANSA.org ), is the umbrella network for more than 400 organizations from 71 countries working to prevent the proliferation and misuse of small arms and to reverse the culture of gun violence. IANSA brings together a wide range of organizations working on peace, relief and development, human rights and gun control, as well as religious and public health groups concerned about the proliferation of lethal weapons.
Last February the Peace Foundation, the Coalition for Gun Control and Leitana Nehan Women's Development Agency in Bougainville began to develop a Pacific network for IANSA. As a starting point, in mid-2002 Vanuatu-based small arms researcher Conor Twyford travelled to Fiji, Bougainville and the Solomon Islands to talk with peace, development and other Non Governmental Organizations about the goals and focus such a network might have. A strong focus on the role of women's organizations in promoting an end to gun violence has already emerged as a key priority. An inaugural conference of IANSA Pacific is in the works, and more news will follow in forthcoming issues of Peaceworks.
For more information, contact Conor Twyford at conor_twyford@vanuatu.com.vu or Marion Hancock at marionh@clear.net.nz
From Guns to Sewing Machines
First it was Swords to Ploughshares, now it's Guns to Sewing Machines. When small arms researcher Conor Twyford visited Bougainville recently to talk to peace, women's and church groups about building a Pacific branch of IANSA (see article), she presented a dozen hand-powered sewing machines to the Leitana Nehan Women's' Development Agency in Buka.
One of the many ways in which Leitana Nehan works to support the disarmament process in Bougainville is by helping local communities develop new sources of income, through projects such as sewing workshops. This supports the disarmament process in two ways. First, it helps raise money to help support the work of Leitana Nehan. Second, it provides communities with an on-going money-earner, giving them a chance to rebuild after 9 years of armed violence, and reducing the likelihood of community members resorting to armed crime. Conor reports:
Four machines each went to three different women's groups in villages around Buka. These were women who had been using sewing machines before the crisis, so they already had the skills. But in villages like Manob, everything was destroyed in 1990, and people only started coming back in 1996. When you consider that in one village at least, those 4 machines are going to be shared among 100 women, it makes you realize how great the need is. By providing a source of sustainable income, the machines will help those villages take many further small steps towards permanent disarmament in Bougainville.
These projects also offer women a way of breaking out of the cycle of violence created by the conflict. Helen Hakena, Executive Director of Leitana Nehan, says that in many villages, former combatants have turned to alcohol abuse to try to blank out their experiences. When this occurs, domestic violence rises dramatically. Sadly, women in these communities are brewing and selling 'JJ' - lethal, almost 100 per cent-proof home brew alcohol - as a way of paying the bills. Projects like this give them an alternative.
People in photo (L-R):
LNWDA Director Michael Katoa; Rose Torongat, LNWDA Integrated Human Development officer; Helen Hakena LNWDA Executive Director; Jocelyne Kiwono and Magdalene Korus, both from Manob village; Conor Twyford
Photo taken by Eva Thatcher, IWDA Melbourne