When asked by an interviewer how he measured success, Ray answered:
"Pretty simple. Am I doing work that I am proud of? If you're doing work that you're proud of, that brings you joy."
May 17, 2003
.

In Memory of Ray Gatchalian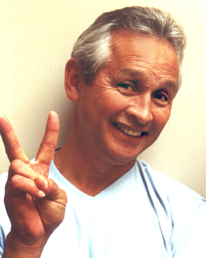 On Sunday, May 11th, Ray Gatchalian, Trauma Foundation board member for over 20 years, and a good friend to us all, died tragically in an automobile crash in Chile. Ray was a former Oakland Fire Department captain, a film-maker, a peace and social justice advocate, a husband, a father, a grandfather, a friend, and an inspiration. Ray had an enormous heart and a spirit to match. He sought to sow the seeds of hope and to inspire each and every one of us to action. Ray inspired people to change their lives and he helped materially and spiritually many around the globe from Mongolia to California, from the Philippines to El Salvador.

Ray and Injury & Violence Prevention
Ray was often connected in supportive ways to historical events important in the field of injury and violence prevention. In 1976, Ray met Andrew McGuire, Executive Director for the Trauma Foundation, while planning the first Oakland Brass Pole Run, a 10 kilometer run that became a fundraiser for the Burn Council (the predecessor of the Trauma Foundation). In 1978, Ray secured a $3,500 donation from his firefighter's union (IAFF Local 55) to fund the Center for Investigative Journalism (CIR) to look into the feasibility of fire safe (self-extinguishing) cigarettes. The result of the investigation was the publishing of a 1979 article by Becky O'Malley in Mother Jones Magazine entitled, "How the Tobacco Lobby Keeps the Home Fires Burning." This article became the basis for the launching of a national campaign for fire-safe cigarettes which has recently come to fruition. On January 1, 2003 the state of New York announced that, within a year, all cigarettes sold in New York will meet strict fire safety standards.
This is a photo of Ray, Fire Chief Andy Casper (SF Fire Department) and Andrew McGuire that was taken May 24, 1979 at a press conference in San Francisco announcing a national campaign calling for cigarettes to be self-extinguishing or fire safe.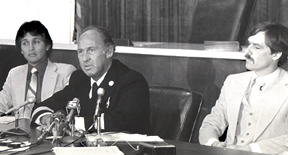 As a footnote, the CIR was founded by Dan Noyes, David Weir, and Lowell Bergman. Lowell left CIR to eventually become a producer at "60 Minutes." In 1994, a story by Mike Wallace aired on 60 Minutes about fire safe-cigarettes. The secret scientific consultant on the fire safe cigarette story was Dr. Jeffery Wigand who later became the subject of the film The Insider. The $3,500 donation from Ray's firefighter's union that funded the original investigation by CIR went a very long way. Ray had a knack for doing the right thing.
For many years, Ray conducted the opening and closing ceremonies of The California Wellness Foundation's statewide annual Violence Prevention Initiative Conference. Ray was the spiritual anchor of these events. His music and his words of wisdom somehow united us. He made every person in those large, impersonal conference rooms feel his or her individuality and value as a human being and, simultaneously, he connected each of us to the person whose hand we were holding or next to whom we were standing. We came from different races and ethnic backgrounds, we were of different genders, different economic classes, and different ages, but Ray encouraged us to let go of our protective armor. We were one, interconnected, and working together toward a common goal--peace and justice.
In an interview, Ray said: "Optimism enables us to claim the future for ourselves and not abandon it to chance." Ray's own optimism was contagious and inspiring. Thank you, Ray. You will be remembered and greatly missed.

News and other web sites with material about Ray:
Ray Gatchalian -- peace activist and filmmaker
San Francisco Chronicle
Devoted humanitarian dies at 57
Oakland Tribune

The Raymond Gatchalian Gallery

Stone Soup for the World: Igniting the Heroic Spirit


Below is a poem Ray often recited at the opening and closing ceremonies of the annual Violence Prevention Initiative conferences.
FLOW

Be,
as water is,
without friction.
Flow around the edges
of those within your path.
Surround within your ever-moving depths
those who come to rest there - -
enfold them,
while never for a moment holding on.

Accept whatever distance
others are moved within your flow.
Be with them gently
as far as they allow your strength to take them,
and fill with your own being
the remaining space when they are left behind.

When dropping down life's rapids,
froth and bubble into fragments if you must,
knowing that the one of you now many
will just as many times be one again.

And when you've gone as far as you can go,
quietly await your next beginning.


- Noel McInnis, 1993