Although they oppose the Moakley Bill, they want us to believe this:
"Our company is committed to being a constructive participant in developing and implementing solutions to public issues involving
cigarettes."

" We work to reduce the risks associated with smoking through
comprehensive approaches to new product design. "
R.J. Reynolds Tobacco
---
"It's crucial that we pass the bill now to prevent any other person from dying such a horrible death."
Dierdre Kearney Howard:

July 9, 2002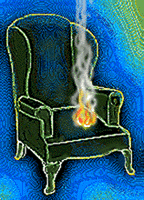 Sleeping Death
Boston, Massachusetts. A family is deeply asleep in the small hours of the morning. Downstairs, a chair in which a dropped cigarette has been smoldering silently for hours, suddenly ignites. The flames grow, eventually reaching out into the house. When Dierdre Kearny Howard awakens, there is barely time to escape. There is no escape for the others there. The fire kills her sister, her brother-in-law, their three children, age eleven months, two and three, and a family friend.
Cigarettes can be made fire-safe so that they will not ignite furniture.
Now, twelve years later, Dierdre Kearny Howard is heading up The Campaign to Pass the Moakley Bill, named in honor of U.S. Representative Joseph Moakley (D.-Massachusetts) which would mandate that all cigarettes sold in Massachusetts meet fire-safety standards that will prevent fires caused by cigarettes. Ms. Kearny Howard is working with a coalition of members of the fire service, health care professionals, safety groups and individuals. The bill has passed the state Senate but must now be passed in the state House of Representatives.
Ms. Kearny Howard's family tragedy is not an unusual event. Cigarettes are the leading cause of fatal fires throughout the United States. Every year, hundreds of innocent children and adults are killed and injured in cigarette-caused fires. The National Fire Protection Association in its recent report entitled "The U.S. Smoking Material Fire Problem", states that in 1998, fires caused by smoking materials resulted in more than 900 deaths, 2,500 civilian injuries and roughly $410 million in direct property damage. In Massachusetts alone, during the 1990s there were 178 deaths, 763 burn injuries and $75 million in property damage due to fires caused by cigarettes.
Advocates have been fighting for fire-safe cigarettes for more than thirty years. The Moakley Bill presents a unique opportunity right now to protect families and save lives.
Recent stories in the news regarding cigarette-related fires:
Cigarette sparks fire that leaves family homeless (June 4, 2002)
Cigarette started house blaze, says Salem Fire Department (June 14, 2002)