"Rosemary Shahan is a real example of a citizen-activist. She is as tenacious as a bulldog, consistent as the Milky Way, and as humane in her own way as Mother Teresa."
Ralph Nader
Consumer Survivor Advocate, Rosemary Shahan, works to protect consumers from Predatory Auto Loans
Rosemary Shahan, President of CARS with Senator Byron Sher (D-Palo Alto) advocating for a new law to toughen protection for consumers whose "lemon" vehicles have life-threatening defects. For more information about the California Lemon Law- http://www.caag.state.ca.us/consumers/general/lemon.htm
Consumers of Auto Reliability and Safety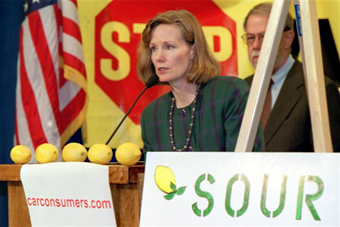 (CARS) and Predatory Auto Loans
Consumers for Auto Reliability and Safety (CARS) is a national auto safety and consumer safety organization dedicated to preventing motor vehicle injuries and fatalities and economic losses. Itís founder and president is Rosemary Shahan who has worked over 24 years in public service. She is on the Board of Directors of the Consumer Federation of America and is also on the Board of Directors of the Consumer Federation of California. CARS has received many public service awards including the Consumer Action Award of Excellence and the National Association of Consumer Advocate Award.
Rosemary Shahan is a consumer survivor advocate, someone who has suffered from anti-consumer corporate policies and decided to do something about it so that others don't have similar experiences. Currently, CARS is working on a campaign to eliminate fraudulent auto financing practices for new and used automobiles. Auto dealers and auto financers deceive buyers into believing they are getting good interest rates on their auto loans, when in fact they are being charged excessive amounts of interest.
Because of CARS' work on this issue, Governor Davis in California has just signed into law a bill that will curb the hidden excessive interest that car dealers charge.
CARS is raising public awareness of this predatory auto lending practice and educating the public about how to avoid being victimized.
---
Car Dealer Scam Costs Consumers Billion$
This Information in Spanish
For Brochure (pdf) format click here. For a Brochure in Spanish (pdf) format click here.

Buying a new or used car? Don't get cheated by "Phony Financing"
It's the auto industry's dirty little secret.
It happens to millions of car buyers every year. Even the most sophisticated, savvy consumers. And you don't even realize you've been cheated.
Phony Financing
The secret? Auto dealers commonly bump up the interest rate you pay to finance your car, truck, or SUV. Over the life of the loan, the extra hidden interest you pay costs you hundreds or even thousands of dollars in added financing costs. These are costs you should not have to pay.
For example, if your credit is good, you may qualify for a loan with a 4% interest rate. But the dealership charges you 8%. Or 12%. Or sometimes 21% or more.
The dealer gets a hidden "kickback" or fee from the lender based on the amount of interest you pay. The more you pay in interest, the more profit the dealer makes. Typically, the dealer and lender split the extra interest you pay 60-40, with the dealer pocketing the lion's share.
The dealership finance manager may seem friendly and tell you, "Don't worry. I'll get you the best possible rate." But instead, he will charge you the highest rate he can. He may even mislead you into thinking your credit is worse than it really is.
This scam affects almost everyone who finances through a car dealer. But studies show that the added costs are likely to be even higher if you are African American or Latino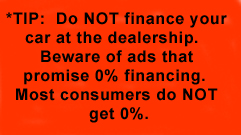 How can you avoid Phony Financing?
BEFORE you go to buy a car!

Whenever possible, buy an affordable vehicle without getting a loan. But whether you pay cash or get a loan, you can save thousands of dollars if you do your homework. Check out prices and models BEFORE you visit a dealership.
Check Consumer Reports online at www.consumerreports.org, or read Consumer Reports Car Buying Guide, available at bookstores and public libraries.

Use Consumer Reports car pricing service. New car buyers who use this service save an average of $2,200. No computer access? For new or used vehicles, call: 1-800-258-1169. (This service costs about $12 and requires a credit card.)

Or, after you decide on a particular model, ask a bank or credit union to show you the Kelley Blue Book, or check it out online at www.kbb.com. Also check classified ads in local newspapers. Prices may be lower in your area.

Join a credit union. Credit unions often offer better rates than banks. Membership requirements vary. Look up "Credit Union" in the yellow pages, call around, and find out how to join.
Know the Score
Find out your credit score by asking your bank or credit union, or checking online at www.myfico.com (for about $12) or at e-loan.com (for free). Figure out just how good your credit is, and take steps to make corrections and improve it.

Check out interest rates online at e-loan.com or bankrate.com. Don't get financing from a dealership unless they can beat the rates you could get online or from a bank or credit union.
Ask online lender, bank or credit union to pre-qualify you for a loan.

No computer access? Shop around at 3 or 4 banks and tell them you are comparing where you can get the best deal. If one offers you a loan at 6%, see if another bank will beat that offer. Make them compete for your business.
Some Useful Links: